Event Details
Saturday 10 May 2014 at the MCG
Breast Cancer Network Australia is presenting Field of Women 2014.

More than 15,000 people will stand together in pink and blue ponchos to represent the number of Australians who will be diagnosed with breast cancer this year.

You don't have to have had breast cancer to take part. Everyone is welcome to participate including supporters, family, friends and survivors.

Saturday 10 May at the Melbourne Cricket Ground (MCG) before the Melbourne vs Western Bulldogs evening match.

Tickets: $55 (inc. GST) includes a poncho and ticket to the match. All proceeds of ticket sales will go to Breast Cancer Network Australia to ensure it can continue supporting Australians affected by breast cancer.

Buy tickets online here.
Start Fundraising
Support a friend
Make a Donation
Buy tickets here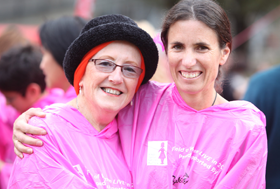 It was the perfect celebration for me at the end of my cancer journey - it is a night I will always remember and treasure - 2010 participant