Ticket Rebate Offer
Raise $300 for BCNA and stand on the Field for free!
Fun This year's Field of Women provides an exciting opportunity for participants to fundraise for Breast Cancer Network Australia.

Any event participant who raises more than $300 for BCNA using the Field of Women Go Fundraise platform will be eligible to claim a rebate of $55 AUD for the cost of their ticket.

Participants can also choose to donate the cost of their ticket back to BCNA.

For rebate terms and conditions click here.
Start Fundraising
Support a friend
Make a Donation
Buy tickets here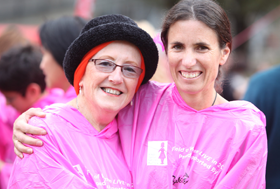 It was the perfect celebration for me at the end of my cancer journey - it is a night I will always remember and treasure - 2010 participant